Off-Broadway world premiere with The Civilians, directed by Steve Cosson and written by Marin Gazzaniga. (10/20/22-11/19/22)
In the classic tale of religious conversion, finding God holds the promise of a life filled with purpose and meaning. But what happens when this transformation occurs in reverse, and a faith you have built your life around begins to fall away? THE UNBELIEVING takes a penetrating look into the lives of practicing clergy members—Catholics, Episcopalians, Evangelicals, Fundamentalists, Jews, Mormons, Muslims—who have stopped believing in God.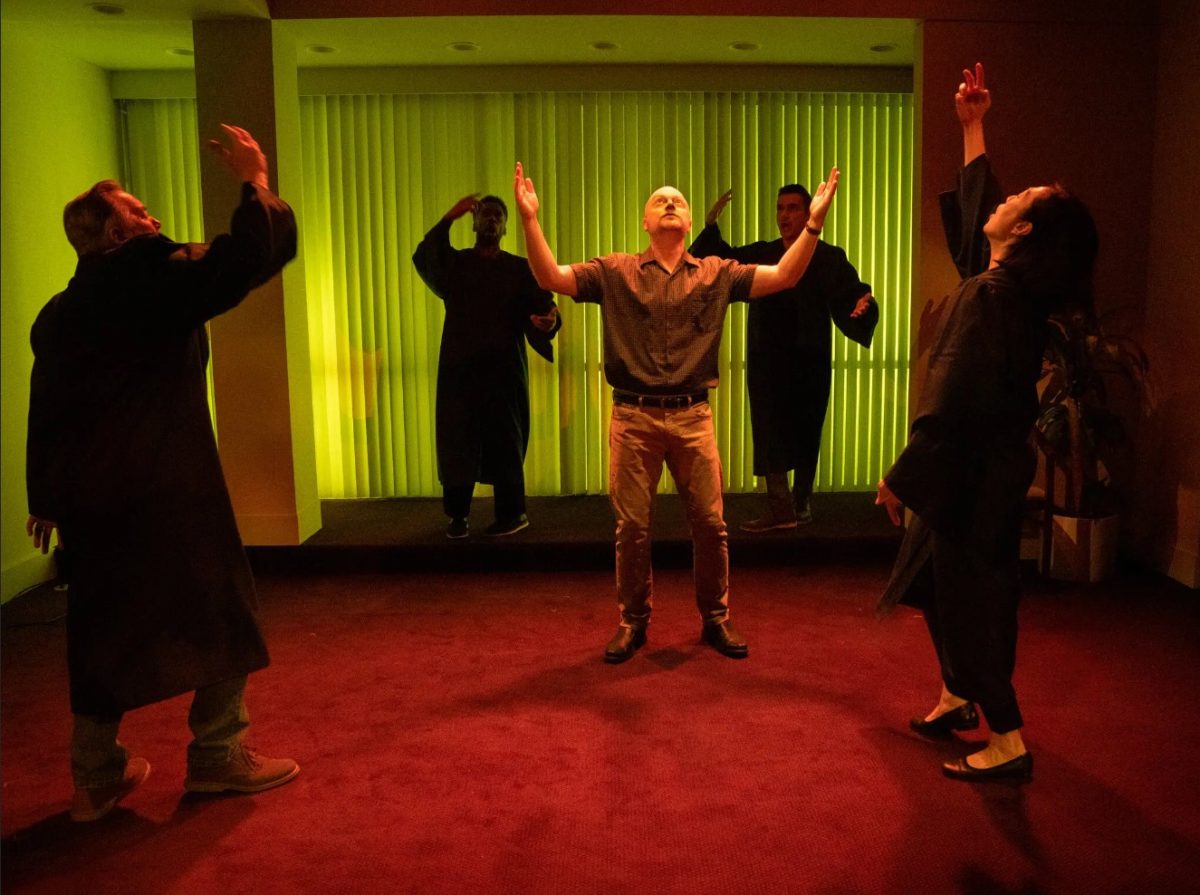 Staged by NYC's acclaimed downtown theater company The Civilians in the brilliant investigative-theater style they pioneered, THE UNBELIEVING tells the intimate stories of these faith leaders. Using their actual words, obtained during a groundbreaking study by philosopher Daniel C. Dennett and qualitative researcher Linda LaScola, the play explores the struggles, courage, and great humor of these "unbelievers" as they face the hardest decision of their lives—whether to continue living in secret or to risk everything by telling the truth.
Based on interviews conducted for the book Caught In The Pulpit: Leaving Belief Behind (2013) by Daniel C. Dennett and Linda LaScola
…one short, sharp moment of grief from the wonderful Jeff Biehl, playing a man who prays for his interviewer so she can witness speaking in tongues…

– Helen Shaw, The New Yorker
…this smart and slender play listens to its characters without judgment. Not trying to hit its audience over the head with lessons, it is conducive to empathy.

… In documenting that dilemma, "The Unbelieving" becomes not only an examination of the power of religion in American culture. It's also an even-keeled meditation on the link between conformity and community — the enormous fear of being cast out and the frantic desire to continue belonging, even if that means living dishonestly.

Steve Cosson's production at 59E59 Theaters is quiet, inquisitive and welcoming.

– Laura Collins-Hughes, The New York Times
Cast
David Aaron Baker, Jeff Biehl, Sonnie Brown, Dan Domingues, Nina Hellman, Joshua David Robinson, and Richard Topol
Creative Team
Marin Gazzaniga (writer), Steve Cosson (director), Sean Donovan, (movement direction), Andrew Boyce & Se Oh (set design), Emily Rebholz and Miriam Kelleher (costumes), Lucrecia Briceno (lighting), Christian Frederickson (original music and sound design), Molly Shea (production stage manager), Dack Justiz (assistant stage manager), Jeremy Stoller (dramaturg), Megan Kingery (creative consultant), Katja Zarolinskijz (JZ Casting).